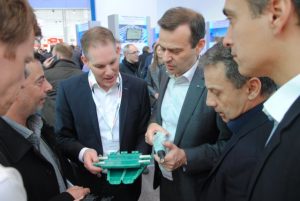 Record-breaking attendance AT LIGHT+BUILDING 2016
Once again the Light+Building Fair 2016 closed its doors after the scheduled 6 days with record-breaking attendance of 216,000 visitors. Amongst them were FEGIME members from 14 countries.
This year again the résumé from the Fair's organisers was very positive: attendance at the Light+Building 2016 was up 2.3%. The 216,000 trade visitors came from a total of 160 different countries and 49% of them from outside Germany. This figure is up by 2% and the number of exhibitors by 4% to 2,589. This makes the Light+Building an increasingly international meeting place and an excellent venue to see the whole range of innovations in our sector as quickly and as effectively as possible.
FEGIME members from 13 countries (Finland, Germany, Greece, Ireland, Israel, Italy, Latvia, Netherlands, Norway, Poland, Portugal, Russia and Spain) took the opportunity to get updates on the latest products and catch up on the news from European Preferred Suppliers. Digitalisation, networking and energy efficiency were the major topics throughout the Fair.